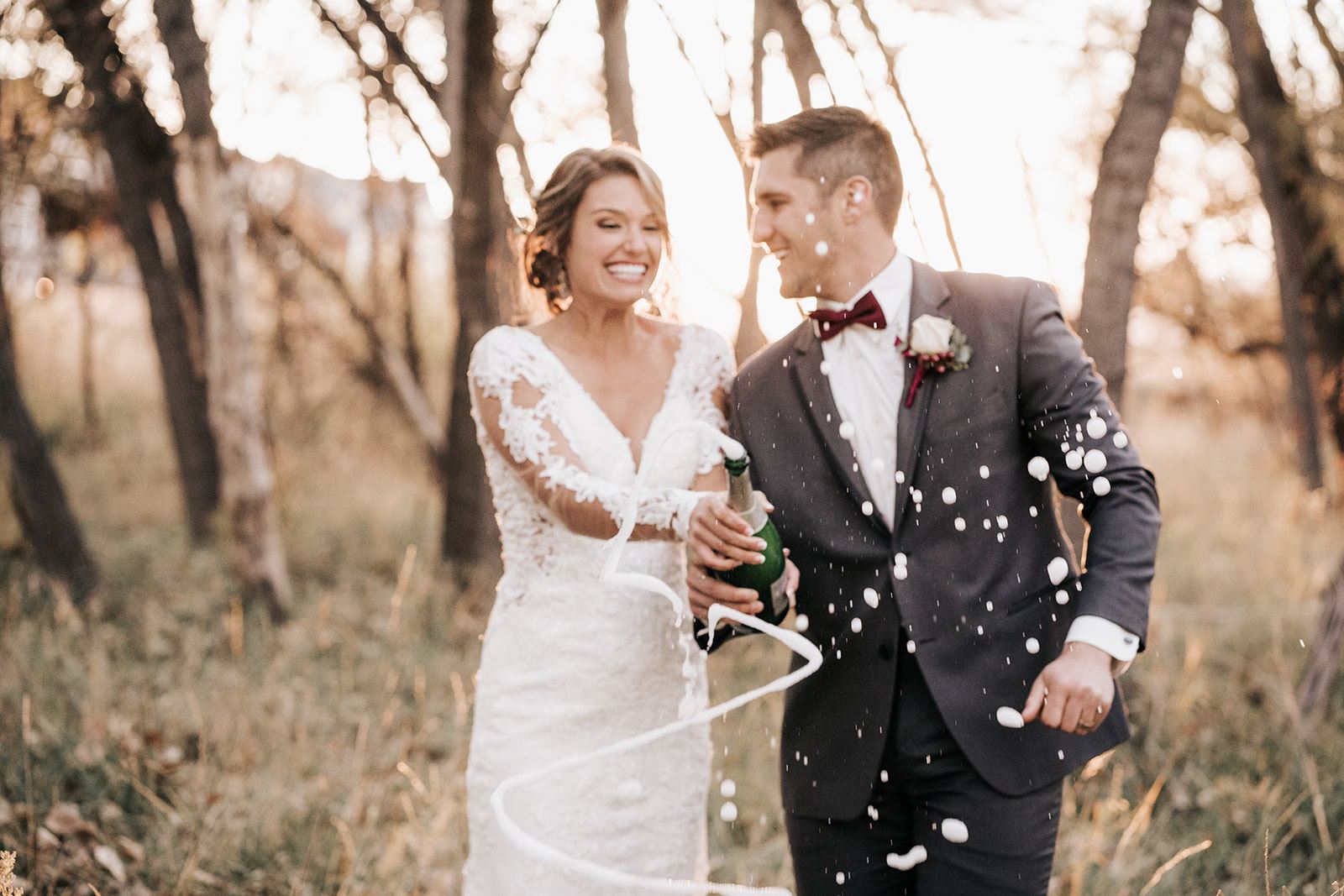 Headed West
Where did you love story begin?
We met at Holy Family High School 8 years ago. We were acquaintances for a while, good friends for a while, and then separated by long distance colleges. We reconnected when Garrett eventually transferred to CSU where Amy went to school, and began the weekly lunch (friend) dates. We were friends for another year until we first kissed on the roof of Garrett's house while looking at the stars. After that, the rest is history.
Tell us about the proposal?
Garrett proposed while on vacation with Amy's family in the Outer Banks, North Carolina in July 2018. We were walking the beach at sunrise to look for sand dollars when Garrett nervously stuttered through the big question!
What are some of your wedding day highlights?
We LOVED the leaf send-off when exiting the church. Our wedding party party bus was super fun while driving around taking pictures. Amy's three brothers gave an AWESOME speech! The Photo Booth was fun, Little Man Ice Cream served delicious ice cream, and the dance floor was full the entire night at the reception at the LIonsgate Gatehouse!
If you could do one thing differently, what would it be?
We honeymooned in St. Lucia. Everything about the honeymoon was perfect…except for the layover. In hindsight, I wish we would have booked direct flights to get the vacation started sooner!
Any advice for a soon-to-be bride?
The wedding planning gets stressful…but you will survive and it's all totally worth it!
We would love to credit those who made your wedding day a dream!
SASs Photography (amazing), Longmont Florist (AMAZING), Lionsgate Gatehouse, Little Man Ice Cream, Ignite Entertainment, Greens Point Catering
What was your journey to finding the perfect dress? Tell us about when you decided to say, "Yes!" to your dream dress!
Dani West was the third store I visited. I entered the boutique and had an automatic feeling that I would find the one. We started browsing, and I was magically drawn to THE ONE in about 1 minute! I tried it on and fell in love, but wasn't quite ready to commit yet. I tried on two more (that were also gorgeous) until trying on the first dress again and I just knew! I was, am, and will always be obsessed with my beautiful gown!
What was your shopping experience like at Dani West?
So awesome! Patty was great, supportive, and helpful. I've recommended two other girls to Dani West who have also found their gown. I'll forever recommend Dani West!